Fast Connector: Quick Assembly and Stable Performance
Fast Connector is a perfect solution for filed working and FTTH connection.
It is widely used where needed for quick connection, providing a quick assembly and stable performance.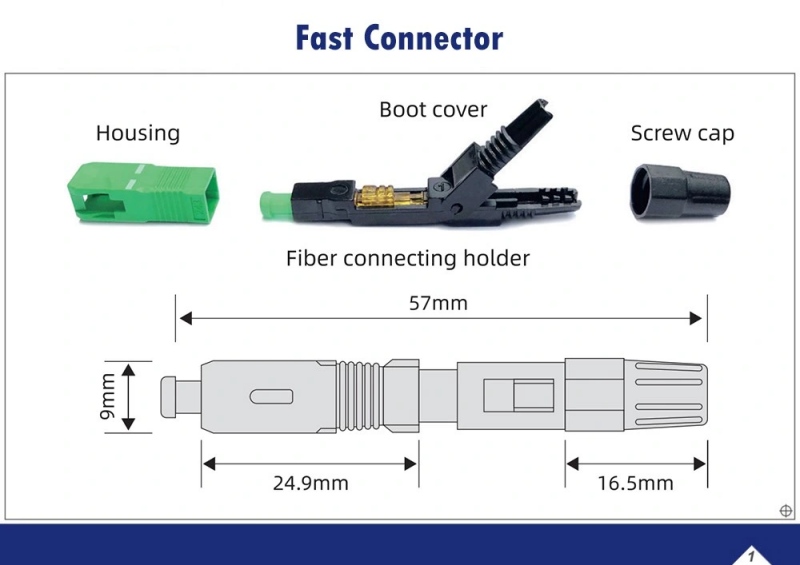 ---
---
With its quick assembly and stable performance, Fast Connector is the go-to choice,
whether it's for installation, maintenance, or repair of optical fiber.
Features of Fast Connector
Compatibility
Fast Connector is compatible with both 3mm drop cable and 3x2mm flat cable, ensuring versatility and ease of use.
Swift Installation
With Fast Connector, installation is a breeze, taking less than 90 seconds. Say goodbye to time-consuming processes and hello to efficiency.
Fiber Pre-Installed Structure
Our innovative design incorporates a fiber pre-installed structure, guaranteeing high-quality installation and a high success rate. No more worries about epoxy or polishing.
Optimal Performance
Fast Connector boasts low insertion loss and high return loss, ensuring reliable and efficient optical connections.
Specialized Structure Design
The pressing position of Fast Connector features a newly designed structure that eliminates the need for infusion, grinding, or unnecessary waste material. Enjoy a hassle-free assembly process.
Embedded Fiber Type Structure
We use an embedded fiber type structure to further enhance installation quality, success rate, and speed. Fast Connector truly prioritizes convenience without compromising on performance.
Mechanical Splice Compatibility
Fast Connector easily integrates with mechanical splice systems, eliminating the need for polishing. Streamline your processes without sacrificing quality.
Minimized Defect Rate
Our connector's removal and reusable features help minimize the defect rate, ensuring cost-effectiveness and reducing waste.
Technical Specifications of Fast Connector
| Technical Specifications | |
| --- | --- |
| Applicable for | Drop cable / Indoor cable (0.9mm Tight Buffer Fiber, 2.0mm, 3.0mm Drop Cable) |
| Optical fiber diameter | SM(9/125), MM(50/125, 62.5/125) - 125μm (657A & 657B) |
| Tight buffer diameter | 250μm |
| Fiber mode | Single-mode |
| Operation time | About 100s (no fiber cut) |
| Insertion loss | ≤ 0.3dB (1310nm & 1550nm) |
| Return loss | > 50dB (PC), > 55dB (UPC), > 65dB (APC) |
| Fastening strength of naked fiber | > 5N |
| Fastening strength of naked fiber holder | > 10N |
| Tensile strength | > 50N |
| Using temperature | ‐40~+75ºC |
| On‐line tensile strength (20 N) | △ IL ≤ 0.5dB △ RL ≤ 5dB |
| Mechanical durability (500 times) | △ IL ≤ 0.5dB △ RL ≤ 5dB |
| Drop‐off test (drop‐off height 4m, once per direction, totally 3 times) | △ IL ≤ 0.5dB △ RL ≤ 5dB |
Applications
Premise environments
Connections at the desk for LAN environments
Patch panels
Direct equipment termination
Fiber to the Subscriber (FTTx) applications
Repair/replacement requirements
Equipment test leads