Fiber Optic Tension Clamps: Secure and Reliable Cable Support
Tension clamps are designed to provide secure and reliable support for fiber optic cables in outdoor and aerial installations.

With a combination of stainless steel wire and reinforced nylon body, Fibeye tension clamps offer excellent durability and performance.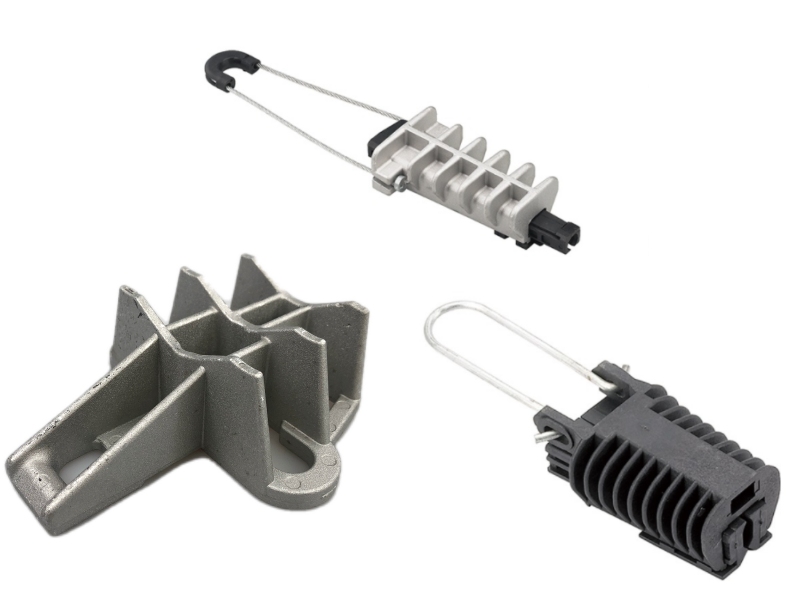 ---
---
Your Ideal Solution for Optical Cable Installation
Do you need a reliable, durable, and easy-to-install solution for your fiber optic cables? You're in the right place!
Our product, consisting of a stainless steel wire and a reinforced nylon body, is specially designed for drop cables with diameters up to 3-8mm.
It fits various ADSS cable designs, making it your go-to option for dead-end fiber optic cables.
Simple Installation, Superior Performance
With our FTTH anchor clamp, you can install the optical cable with ease. The open hook self-locking construction ensures the simple installation of a fiber pole.
Plus, you have the option to get our FTTX optical fiber clamp and drop wire cable brackets separately or as an assembly.
Rigorously Tested for Your Peace of Mind
Fibeye FTTX drop cable anchor clamps have passed multiple tests.
Including tensile tests, temperature cycling tests, aging tests and corrosion resistance tests.
They've proven their reliability in temperatures ranging from -40 to 60 degrees.
Fibeye drop wire clamp is a good solution to support one or two pairs of fiber drop wires.
With its open trough design, it effortlessly supports separable strands. It provides support to various objects at a cable, often supporting one or two pairs of telephone drop wires.
Types of Drop Wire Clamps
You get to choose the type of drop wire clamp that best suits your needs. We offer two types:
Wire wrap type
Compression type
Both types are designed to prevent degradation of signal quality by avoiding damage to the cable or its insulation.
Packed with Features for Your Benefit
You'll love our clamps' anti-corrosion performance, abrasion and wear resistance, maintenance-free design and durability.
Their strong grip ensures your cable won't slip, and the stainless steel wire guarantees firm tensile force.