Fiber Optic Waterproof Connectors - Enhancing Connectivity in Challenging Environments
Fiber optic waterproof connectors can establish secure and reliable connections between fiber cables, even in the harshest outdoor environments.
These connectors offer robust protection against moisture, dust, and other environmental factors that may compromise signal transmission.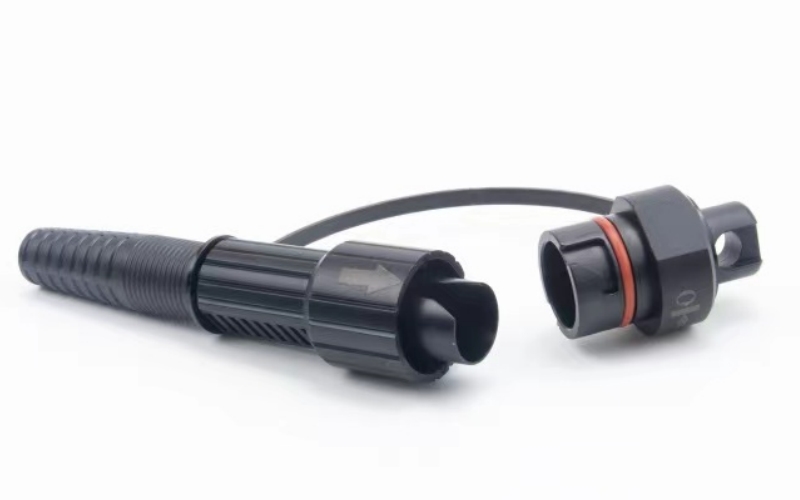 ---
---
Key Features of Fiber Optic Waterproof Connectors
Robust Construction: Our connectors are built with durable materials like stainless steel or ruggedized plastic, providing mechanical strength and protecting against physical damage.
Sealing Mechanism: Incorporating advanced sealing mechanisms such as O-rings or gaskets, our connectors create watertight and dustproof seals to preserve the integrity of the fiber optic connections.
Waterproofing Techniques: We employ techniques like epoxy potting, gel-filled sleeves, or compression seals to ensure reliable protection against water penetration.
IP Rating: Our connectors adhere to stringent Ingress Protection (IP) standards, offering exceptional protection against solids and liquids.
Easy Installation: Designed for effortless installation and maintenance, our connectors feature user-friendly designs like push-pull or bayonet-style coupling mechanisms.
Applications of Fiber Optic Waterproof Connectors
Outdoor Telecommunications: Ensure reliable and moisture-resistant connections in outdoor telecommunications applications, such as fiber-to-the-antenna (FTTA) installations.
Industrial Environments: Provide critical moisture protection in harsh industrial settings like oil, gas, mining, and manufacturing industries.
Marine and Submarine Deployments: Withstand underwater conditions and enable uninterrupted data transmission for marine and submarine applications.
Security and Surveillance: Play a crucial role in outdoor security and surveillance systems, offering uninterrupted data transmission and protection against environmental factors.
Choosing the Right Fiber Optic Waterproof Connector
When selecting a fiber optic waterproof connector, consider factors such as connector type, required IP rating, compatibility with fiber cables and equipment, and environmental conditions.
Here are some mostly used waterproof connectors that we could supply, be free to contact us for more informations!
Full AXS
Full AXS is an outdoor connector designed to provide IP-67 water and dust seal for Fullaxs-LC Duplex, MTP/MPO, and other connector types.
Fibeye's FullAXS Connector Cable Assemblies are tailored for next-generation WiMAX and Long Term Evolution (LTE) Fiber/Power/Signal To The Antenna (x-TTA) connectivity designs, enabling the use of robust cable assemblies in outdoor environments.
Key features include a water-tight seal up to IP67 levels. Applications include WiMAX and LTE Base Stations, Remote Radio Heads (RRH), and FTTA outdoor applications. Suitable for optical cables with an outer diameter of 4.8mm or 7.0mm.
ODVA
Sealed Circular IP68 ODVA fiber optic patch cable assemblies provide a low-cost, ideal solution for CATV, RRH remote radio heads, and FTTX connectivity in harsh environments.
The ODVA-LCDX, ODVA-SC, and ODVA-MPO connectors are designed specifically for outdoor use, with suitability for various temperature and weather conditions. They are especially well-suited for FTTA and harsh environment applications.
OptiTap
OptiTap SC/APC Patch Cord with 5.0mm Circular Cable
The OptiTap-SC/APC Patch Cord is a factory-terminated, environmentally sealed, and hardened connector designed to reduce the cost and installation time of drop cables in optical access networks.
It features a single-fiber cable assembly specifically designed to significantly streamline drop cable installation requirements.
OptiTap-SC Field Installable Reinforced Connector
The FastConnect OptiTap-SC optical cable consists of a hardened SC connector and a flat fiber cable. It adopts a fast-locking connector design, SC technologies, and a compact cable structure, enabling fast deployment, high network reliability, and durability.