MPO Adapters for High-Speed Network Connectivity
Ideal for data centers and telecommunications installations,
Fibeye MPO/MTP adapters offer compatibility with various MPO connector types and fiber counts.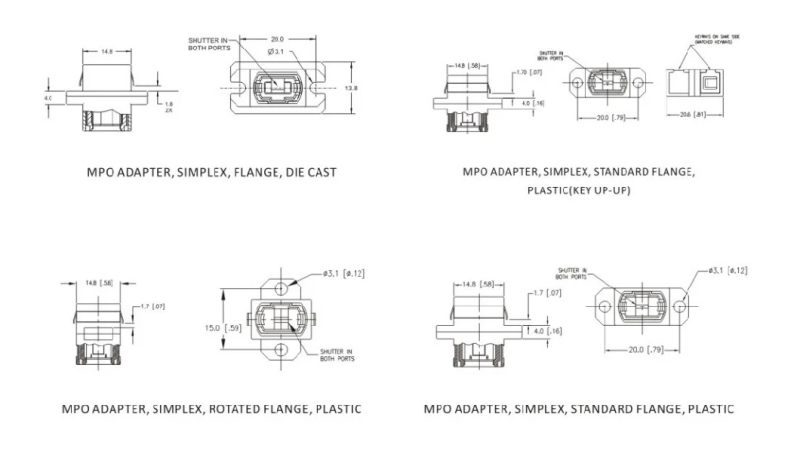 ---
---
MPO adapter designed to provide high-speed and reliable network connectivity.
Ideal for data centers and telecommunications installations.
Choose from MPO-12, MPO-24, MPO-16 and MPO-32 adapters to meet your specific network requirements.
Key Features of Fibeye MPO Adapter
Versatile Connector Types: Our MPO adapters support a range of connector types, including MPO-12, MPO-24, MPO-16 and MPO-32. MPO-12 featuring one row of 12 fibers, is the most common connector type. For higher-density applications, we offer connectors with multiple rows of fibers, such as MPO-24, MPO-16 and MPO-32.
High-Speed Network Connectivity: MPO adapters are specifically designed to meet the demands of high-speed networks, ensuring reliable and efficient connectivity for critical applications.
Compatibility and Interoperability: Our adapters are compatible with various MPO connector types, including the popular MTP connectors. This compatibility allows for seamless integration within existing data center network infrastructure.
Data Center and Telecom Applications: MPO adapters are well-suited for data centers, central offices, and telecommunications installations. As telcos transition to data centers, MPO cables with 12 or 24 fibers are increasingly deployed. Our adapters cater to these evolving requirements.
Color-Coded Fiber Identification: Each jacket of the MPO connectors houses multiple fibers that are color-coded based on a common standard. This color-coding simplifies identification and ensures accurate connections during installation and maintenance.

Why Choose Our MPO Adapters
Exceptional Performance: Our MPO adapters are engineered to deliver exceptional performance, ensuring reliable and high-speed network connectivity.
Flexible Solutions: With a wide range of connector types available, we provide flexible solutions to meet diverse network requirements, from MPO-12 for standard applications to higher-density options such as MPO-24, MPO-16 and MPO-32.
Ease of Integration: Our adapters seamlessly integrate with existing MPO connectors and fiber optic infrastructure, simplifying installation and compatibility concerns.
Reliability and Durability: Built with precision alignment sleeves and robust materials, our adapters offer long-lasting reliability and durability in demanding network environments.
Expert Support: Our knowledgeable team is available to provide expert guidance and support throughout your project, ensuring optimal adapter selection and deployment.